Our Universal Mount Monitors form the core of the modular Hope Industrial Workstation System. Using the included VESA or yoke mount points, the fully enclosed display can be mounted in a limitless range of configurations depending on the individual needs of each user's application. Cable connections are protected inside the monitor cavity, with cables exiting through a variety of sealed, wash-down rated cable exit glands.
Optional sealed industrial keyboards can be added to create a complete HMI solution, and fully sealed PC or thin client enclosures allow most standard computer hardware to be mounted directly to the workstation. Industrial KVM extender options allow placement of the PC up to 300 m (1,000′) away using shielded CATx cable.
You can design your own workstation using our 3D Configuration and Quoting Tool. Our Workstation Configuration Guide also explains all of the options in more detail.
These complete workstations can be assembled in the field or fully assembled and tested at our factory when ordered with our optional Workstation Assembly Service.
Rear Views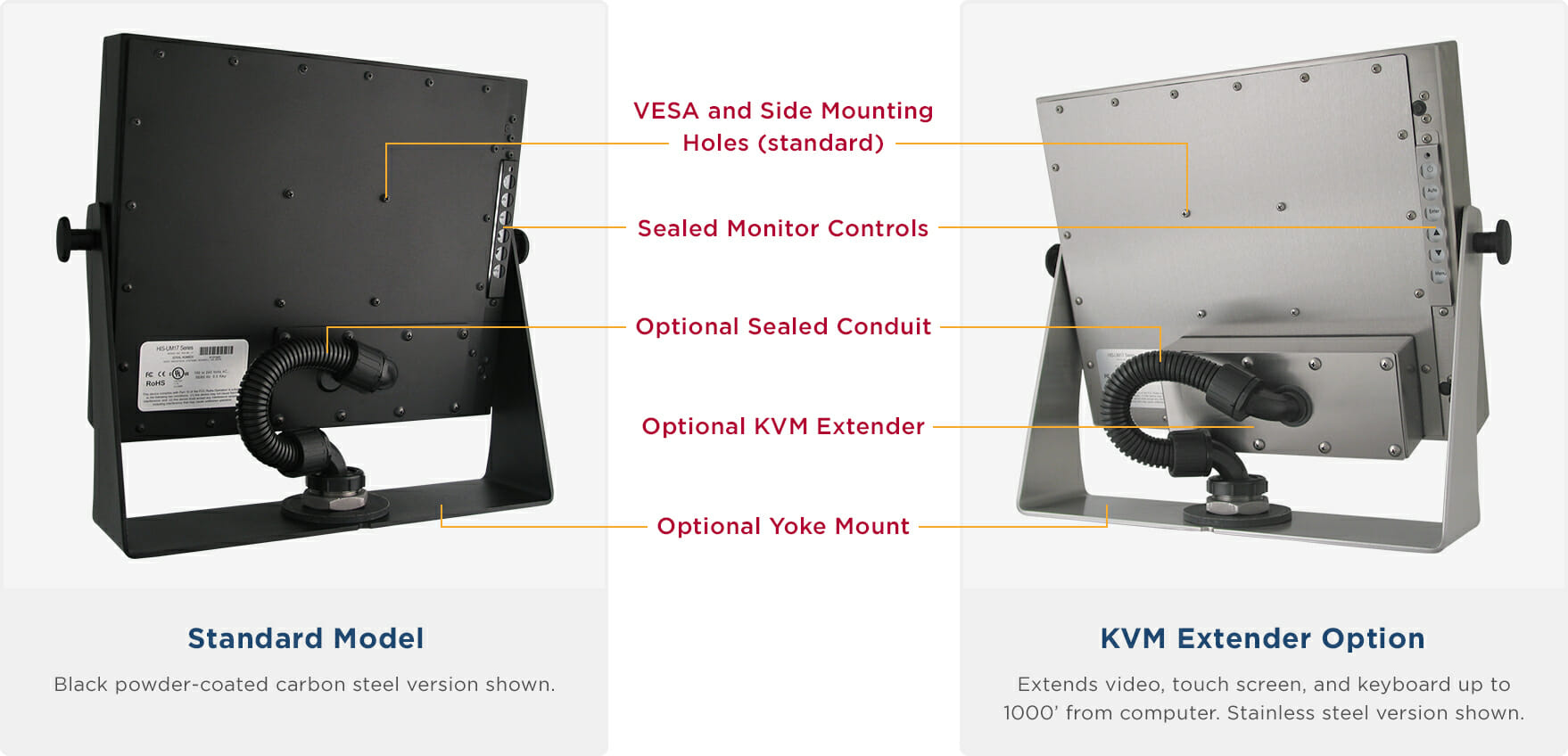 Cable Exit Options
Visit our Cable Exit Plate page for detailed specifications and available options.
Display
Size – 17.0″ diagonal
Native Resolution – SXGA (1280 x 1024, 5:4 aspect ratio)
Brightness (white) – 250 nits (cd/m2) max
Contrast Ratio – 1000:1
Backlight (typical) – LED; 60,000 hour brightness half-life
Type – Thin-film Transistor (TFT) Active Matrix Liquid Crystal
Image Size (W x H) – 338 mm x 270 mm (13.3″ x 10.6″)
Plug and Play – DDC1/2Bi compatible
Minimum Resolution – VGA (640 x 480)
Pixel Pitch – 0.264 mm x 0.264 mm
Number of Colors – 16.7 million
Viewing Angle (Hori/Vert), typical – 170° / 160°
Window Options
Single-Touch Resistive Touch Screen

Technology – 5-wire single-touch resistive sensor. Pressure sensitive for use with any stylus or glove. Polyester cover sheet with anti-glare acrylic hard-coat. Single-touch gestures supported.
Interface – USB or RS-232 interface to computer (both connections are included on touch screen monitors)

Fully Tempered Glass Window (non-touch) – 2.8 mm to 3.0 mm glass window with 90% gloss anti-glare surface finish. Fully tempered to ASTM C1048 standards for higher impact and scratch resistance. Passes ball-drop test, 500 g at 1.2 m (3.9′).
Optional Acrylic Window (non-touch) – acrylic glazing provides a scratch-resistant and shatter-resistant window; anti-reflective coating with 99% reduction of glare; thermal insulating and anti-static; 99% UV blocking
Video
Input Connectors – HD-15, DVI-I
Compatible Inputs Using Optional Adapter (call for details)

HDMI (via DVI to HDMI adapter); part number: ADAP-DVIDM-HDMIF
DisplayPort (via DisplayPort to DVI adapter); part number: ADAP-DPM-DVIIF
BNC (via 5-wire BNC to HD-15 adapter); part number: C20A

Input Signal Formats

RGB Analog video, 0.7/1.0 Vp-p, 75 Ohms; Compatible sync modes: Separate H/V sync
DVI
NTSC/PAL composite input available; call for details

Horizontal Scan – 31-73 kHz
Vertical Scan – 50-75 Hz
Common Supported Video Standards

SXGA – 1280 x 1024 @ 60 (native), 75 Hz
1024 x 768 @ 60, 70, 72, 75 Hz
800 x 600 @ 56, 60, 72, 75 Hz
720 x 400 @ 70 Hz
640 x 480 @ 60, 75 Hz
See user manual for a full list of resolution and timing compatibility

Response Time (typical) – 5 ms
Electrical
Power Input

AC Power Models – 100 to 240 VAC, 1.5/0.75 A, 60/50 Hz
DC Power Models – 9.6 to 36.6 VDC, 2.5 to 0.65 A, Class 2 or SELV/LPS

Power Consumption (typical) – 20 W
Power Consumption (standby mode) – < 4 W
Environmental
Enclosure Rating – NEMA 2, NEMA 4, or NEMA 4X when fitted with required cable exit plate; IP65/IP66 or IP22 (depending on cable exit). More on IP/NEMA ratings.
Operating Temperature – 0° to 50°C (32° to 122°F)
Storage Temperature – -20° to 60°C (-4° to 140°F)
Humidity – 20% to 90% non-condensing
Operating Shock – 15 g, 6 msec, half-sine
Operating Vibration (sine) – 1.0 g, swept sine 9-500 Hz
Transport Vibration (random) – 0.1g² / Hz, 10-200 Hz; 0.03g² / Hz, 200-2000 Hz
Altitude – Operating: up to 3.05 km (10,000′); Non-operating: up to 12.19 km (40,000′)
Environmental Sulfur Gas Protection Option – includes glass-armored touch screen, vapor-phase corrosion inhibitor, and extensive sealing; call for details. More on Sulfur Gas Protection.
Functional
Panel Controls (rear access) – Power, Right, Left, SEL, Menu
OSD (On Screen Display) Controls – Contrast, Brightness, Sharpness, Color, Timing, Auto setup, H total, V position, H position, Phase, Inputs, OSD, Info, Reset to factory defaults, Source scan, Advanced Setup
Physical
Enclosure Type – self-contained enclosure
Enclosure Material – black powder-coated carbon steel enclosure (with black powder-coated aluminum rear cover) or stainless steel enclosure
VESA Mounting Holes – standard on all models – 100mm square, M4 threads
Side Mounting Holes – standard on all models
Enclosure Dimensions (W x H x D) – 416.6 mm x 354.1 mm x 82.6 mm (16.40″ x 13.94″ x 3.25″)
Net Weight

Black Powder-Coated Carbon Steel Models – 6.80 kg (15 lbs.)
Stainless Steel Models – 8.16 kg (18 lbs.)

Shipping Weight

Black Powder-Coated Carbon Steel Models – 8.16 kg (18 lbs.)
Stainless Steel Models – 9.53 kg (21 lbs.)
Compliances and Certifications
Electrical
Reliability
Environmental
Enclosure
Hazardous Locations

I.T.E. Listed for Class I, Division 2 for Groups A, B, C, and D; Class II, Division 2 for Groups F and G; Class III
Temp Code T4 (File No. E334953) per ANSI/ISA-12.12.01-2015 and CAN/CSA C22.2 No. 213-15
Note: Hope Industrial Systems provides wiring and conduit that complies with the U.S. National Electric Code but cannot rate wiring or conduit methods for hazardous locations, as these must be locally inspected and approved. The customer must install their hazardous location rated monitor in accordance with the applicable electrical codes for their location.
Cable Exit Options
Compression Gland – cables exit through compressed polyurethane foam or EPDM rubber and may be repositioned by the user. NEMA 2, 12/4, or 12/4/4X (IP22 or IP65/IP66) options available.
3/4″ Conduit – cables exit through flexible conduit. Up to 7.0 m (22′) conduit length. Sealed to NEMA 12/4 or 12/4/4X (IP65/IP66) standards.
Compression Gland with Conduit – cables exit through flexible conduit. Up to 7.0 m (22′) conduit length. Cables for nearby peripherals (mouse, keyboard, scanner) can exit through compressed EPDM rubber and may be repositioned by the user. Sealed to NEMA 12/4 or 12/4/4X (IP65/IP66) standards.
Cover Plate with Pilot Hole – NEMA 12/4 or 12/4/4X (IP65/IP66) rated cover plate with pilot hole for use with customer-supplied cable exit gland.
Optional Workstation Components
17" Universal Mount Monitors - pricing below is for monitor only. Base configuration pricing above includes monitor, basic cover plate, and 6' cables.
Enclosure Material
Power Input
Window Option
Part Number
Price
Stainless Steel
AC
Single-Touch Resistive Touch Screen
HIS-UM17-STAH

$1,265

£1,055

€1,205

1.205 €

HIS-UM17-STAH

Glass (non-touch)
HIS-UM17-SGAH

$1,150

£960

€1,100

1.100 €

HIS-UM17-SGAH

Acrylic (non-touch)
HIS-UM17-SAAH

$1,160

£970

€1,105

1.105 €

HIS-UM17-SAAH

DC
Single-Touch Resistive Touch Screen
HIS-UM17-STTH

$1,335

£1,115

€1,275

1.275 €

HIS-UM17-STTH

Glass (non-touch)
HIS-UM17-SGTH

$1,220

£1,020

€1,165

1.165 €

HIS-UM17-SGTH

Acrylic (non-touch)
HIS-UM17-SATH

$1,230

£1,025

€1,175

1.175 €

HIS-UM17-SATH

Black Powder-Coated Carbon Steel
AC
Single-Touch Resistive Touch Screen
HIS-UM17-CTBH

$1,050

£875

€1,000

1.000 €

HIS-UM17-CTBH

Glass (non-touch)
HIS-UM17-CGBH

$935

£780

€895

895 €

HIS-UM17-CGBH

Acrylic (non-touch)
HIS-UM17-CABH

$945

£790

€900

900 €

HIS-UM17-CABH

DC
Single-Touch Resistive Touch Screen
HIS-UM17-CTTH

$1,120

£935

€1,070

1.070 €

HIS-UM17-CTTH

Glass (non-touch)
HIS-UM17-CGTH

$1,005

£840

€960

960 €

HIS-UM17-CGTH

Acrylic (non-touch)
HIS-UM17-CATH

$1,015

£850

€970

970 €

HIS-UM17-CATH