Our Thin Client/Small PC Enclosures form part of the modular Hope Industrial Workstation System by allowing 3rd-party small PCs and thin clients to be mounted directly at a factory operator station. These enclosures can be combined with a Universal Mount Monitor, Industrial Keyboard, and Floor-standing Pedestal Mount to create a full stand-alone workstation.
An fan-based internal cooling system distributes air throughout the enclosure, optimizing heat transfer through the sheet metal and reducing hot-spots without circulating outside air. High quality integrated industrial DC power supplies replace the less reliable "power bricks" that come with most small PCs. For applications that don't require an integrated power supply or internal cooling, the enclosure can be ordered without the power/cooling assembly.
To determine whether your computer and equipment will work with this enclosure, visit the Technical FAQs tab above, or contact our sales department.
What are the advantages of the Hope Industrial enclosure over an off-the-shelf industrial enclosure?
Using an off-the-shelf industrial computer enclosure requires solving a common set of engineering problems: mounting the thin client or PC, mounting the enclosure itself, supplying power, internal cooling, and routing cables. Hope Industrial enclosures solve these problems, saving time and money for industrial users. Hope enclosures provide many benefits:
Thin Client / Small PC Ready – the internal mounting plate includes standard 75mm and 100mm VESA mounting holes, as well as mounting patterns for common thin clients and PCs (see below). The oversized mounting plate can also be drilled to accommodate any device.
Ruggedize Non-Industrial Hardware – fully sealed enclosures provide a safe environment for office-rated thin clients or PCs; an inexpensive office-grade device can be used on the factory floor.
Integrated Cooling – a circulating fan cools the integrated power supply, circulates the air inside the enclosure, and also directs air flow over the device to minimize heat rise. Air is circulated over 735 in2 of surface area to cool the enclosure interior without circulating outside air.
Stainless Steel – rugged stainless steel construction (black carbon steel optional) is tougher than plastic while maintaining a full NEMA 4/4X (IP65/IP66) rating for wash-down applications.
Integrated Power Supply – integrated industrial power supply provides up to 22 W of power at 5 VDC (ENCL-TC01 and ENCL-TC02 models only) and 40 W at 12 VDC (24 VDC for ENCL-TC02 models; 19 VDC for ENCL-TC03 models), meeting the needs of most thin clients and many small form factor PCs. Input power is integrated with display AC power so only a single AC mains input is required, and DC output is provided via convenient terminal block connections.
Integration with Hope Industrial Mounts – enclosures are pre-drilled for use with Hope Industrial pedestal mount options. All cable routing is handled internally without any additional drilling or sealing by the customer.
Internal Cable Management – included, pre-fit cable raceway comes pre-mounted, ensuring a clean installation.
Which thin clients or small form factor PCs will work with this enclosure?
The enclosure can be used with most devices that will physically fit inside the enclosure, and will not give off more heat than can be safely dissipated by the enclosure's cooling system while maintaining an operating temperature that is within the device's normal operating range. This section addresses physical fit and device mounting, while the next addresses heat.
Physical Constraints
Physically, the enclosure can accommodate a device up to (W x H x D) 228 mm x 325 mm x 93 mm (9.0″x 12.8″x 3.7″), which includes an allowance for typical cable connectors plugged into the back of the device. This does not include allowance for mounting brackets that may be needed on the top and bottom. The maximum allowable space is (W x H x D) 305 mm x 325 mm x 93 mm (12.0″x 12.8″x 3.7″).
To mount the thin client or small form factor PC, the internal mounting plate provides standard 75mm and 100mm VESA mounting holes, as well as mounting patterns for a variety of 3rd-party thin clients and small PCs. The oversized mounting plate can be drilled for other mounting patterns.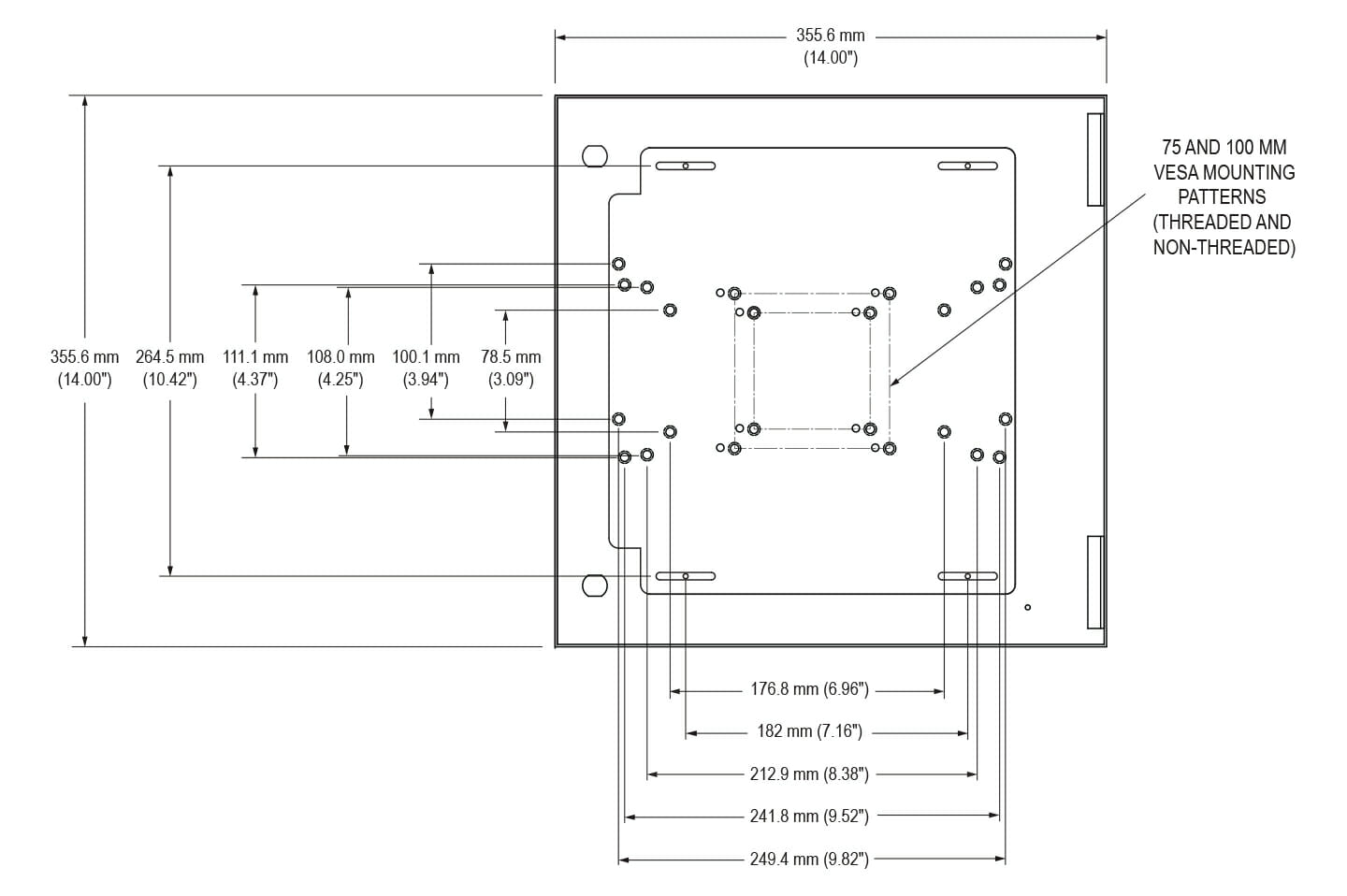 Power Supply Limits
ENCL-TC01 enclosure models – provides 5 VDC up to 22 W, and 12 VDC up to 40 W
ENCL-TC02 enclosure models – provides 5 VDC up to 22 W, and 24 VDC up to 40 W
ENCL-TC03 enclosure models – provides 19 VDC up to 40 W
ENCL-TC00 enclosure models – no integrated DC power supply
Will my thin client, PC, or other device run too hot inside this enclosure?
Whether internal enclosure temperatures will exceed the rating or your device depends on a variety of factors:
Heat rating of the device
Maximum ambient temperatures outside the enclosure
Wattage consumption of the device, at typical computing load
The type of enclosure used (stainless steel or powder-coated carbon steel)
Whether an internal circulating fan is used
How the device is mounted inside the enclosure
The following sections provide guidance for ensuring the lowest possible operating temperature for your device, but this can be a complicated process. Please contact us for additional guidance and compatibility advice.
Heat Management Rule 1
If the PC or thin client uses a fanless design, select an enclosure with an internal circulating fan (ENCL-TC01, TC02, and TC03), and mount the device so that the air is directed over the device's heat sinks.
Using an Internal Air Circulating Fan
Heat Management Rule 2
If the PC or thin client has an integrated cooling fan, consider using an enclosure without an internal circulating fan (model ENCL-TC00 – note that this model does not include a DC power supply).
Many industrial PCs or thin clients and other low-power devices use a fanless design. These devices typically have obvious external heat sinks or heavily perforated enclosures and rely on convection for cooling. These devices can benefit heavily from directed airflow from an internal air circulating fan, like those built into Hope model ENCL-TC01, TC02, and TC03 enclosures. In extensive testing, we have found that the internal components of many such devices actually run cooler inside the Hope enclosure with directed airflow than they would sitting in ambient still air outside the enclosure.
If your device already has an integrated cooling fan, it will benefit less from a separate internal circulating fan and you may have better results not using a fan, since the fan and its power supply do introduce some additional heat.
Heat Management Rule 3
If no internal circulating fan will be used, mount the PC or thin client as low as possible in the enclosure where temperatures might be much lower. This also includes devices that do have integrated fans if those fans are very small.
When the enclosure and device are not equipped with a fan, or if the device has a very small cooling fan, the internal temperature can vary greatly depending on the vertical position in the box. The top of the enclosure can develop temperatures much higher than those at the bottom of the enclosure.
Heat Management Rule 4
When possible, use carbon steel enclosures for best heat performance and coolest internal temperatures for the device.
For the same reasons, if multiple devices will be mounted in the enclosure at different heights, it is important to use a circulating fan so that internal temperatures will be spread out evenly.
Choosing an Enclosure Material Type
Hope Industrial enclosures are available in both stainless steel and black powder-coated carbon steel. Carbon steel is much better at conducting heat than stainless and can result in much lower internal temperatures than stainless. While carbon steel is not recommended for wet or corrosive environments, all Hope carbon steel enclosures are fully IP65/IP66 rated. Carbon steel should be used whenever heat is a concern and accommodations can be made to minimize exposure to liquids.
Calculating Internal Temperatures
Hope has extensively heat tested our industrial enclosures and the following chart can be used to estimate the internal temperature your device will experience based on the expected external ambient temperature and the amount of heat (in watts) created by the PC and any other internal heat-generating devices. To calculate your expected maximum temperature:
Calculate the total expected wattage that will be used by the equipment you will place in the enclosure. Remember that PCs often run at a nominal wattage much less than their rated value. Generally only PCs doing processor-intensive activities, such as processing video, run anywhere near their maximum rated wattage.
Refer to the chart below to determine the expected heat rise inside the enclosure for the wattage determined in step 1.
Determine the maximum ambient temperature expected outside the enclosure and add this to the heat rise determined in step 2.
Compare this total to the maximum rated operating temperature of your equipment to make sure that the calculated temperature does not exceed the rated temperature of the device.
Note that these formulas are only for use with fan-equipped Hope Industrial enclosure models ENCL-TC01, TC02, and TC03.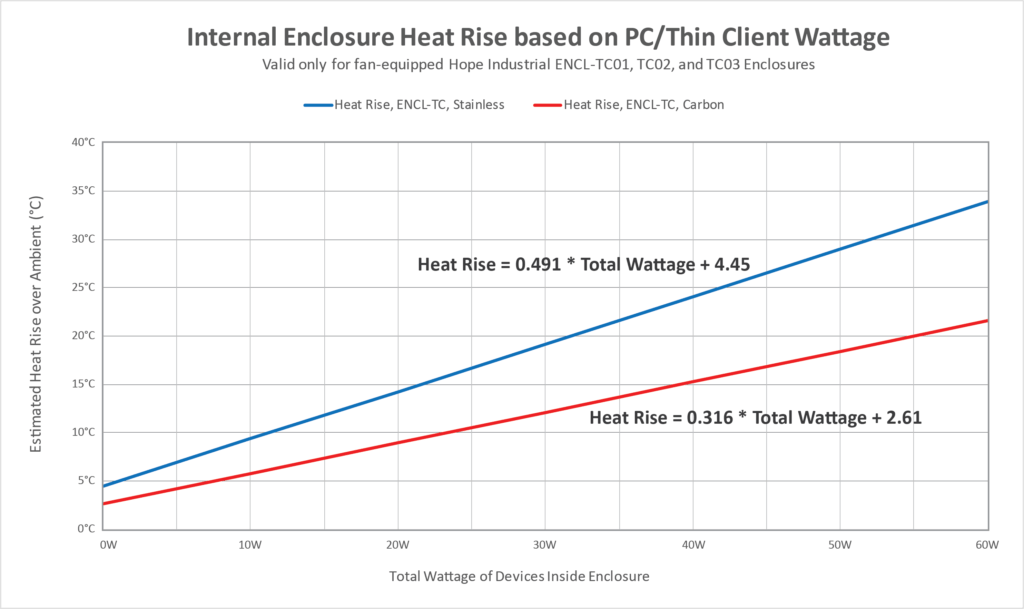 Heat Testing Your Device
The above calculations only provide a rough estimate of internal enclosure temperatures and do not take factors like the benefits of circulating air into account.
For a more accurate estimation of the thermal performance of your device when placed inside a Hope enclosure, contact Hope Industrial technical support. In addition to researching your device and performing these calculations, it may also be possible to test your device in-house for the most accurate possible estimate.
For applications where additional cooling is needed, contact us for information on active cooling options, which can extend the heat handling capability of the enclosure up to 175 watts.
Is the enclosure compatible with the Dell Box PC 3000?
The Dell Box PC 3000 Embedded Computer is designed to operate at higher temperatures than most comparable non-industrial PCs. Due to the efficient thermal designs both of the Box PC 3000 and the Hope Industrial enclosure, heat-rise inside the Hope enclosure is negligible.
The enclosure mounting panel has been pre-drilled to accommodate the Box PC 3000 when used with the Dell mounting bracket (Dell part number: 575-BBKB).
The Box PC 3000 combined with the Hope Industrial enclosure can handle ambient temperatures up to the maximum rated temperature for the Box PC 3000 (up to 50°C). Actual thermal performance may vary if other heat-generating equipment is mounted inside the enclosure. If other equipment will be mounted inside the enclosure along with a Box PC 3000, contact us so that one of our engineers can help calculate expected heat rise.