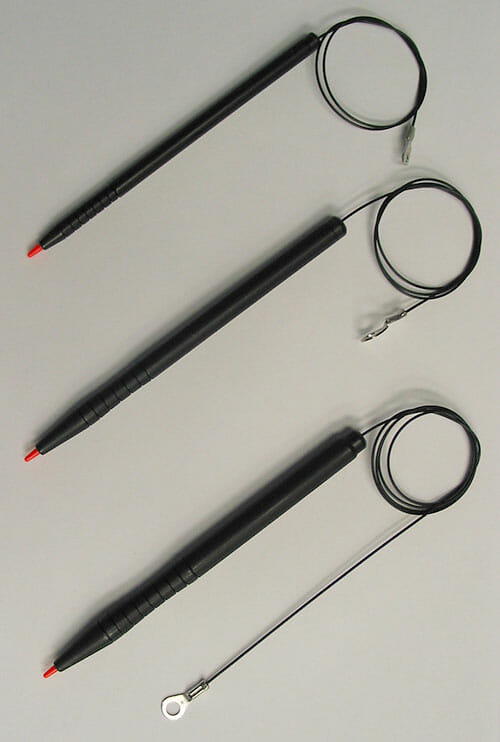 As we've talked about in other posts, our touch screen displays use resistive touch technology because of its many benefits to the industrial user. One of the most important of these is the fact that resistive sensors are pressure sensitive, which means that a gloved hand, a stylus, or most anything else can trigger a touch.
While most industrial HMI applications use interface screens designed to simply press with your finger (meaning, large buttons), we have some customers who require a stylus for increased accuracy. Over the years, we've recommended PDA Panache styluses to many users. We've found the company's simple and sturdy designs well suited for many industrial environments.
We've tested many PDA Panache styluses but we generally recommend the VTET (large), MTET (medium), and BTET (small) models.
These styluses are made with a RoHS-compliant, machined aluminum body with a black anodized finish. The stylus tip is made of low-friction DuPont Delrin, molded with a nice, noticeable high bright orange (also available in black).
These styluses have a solid heft and feel and are much easier to control than a "plastic stick" type stylus. We've found that the large, VTET is best suited for use with our displays since the longer stylus gives you more reach when resting your arm on the monitor bezel (sometimes required for precision pointing so your arm does not trigger a touch).
A very useful feature on all these models is the available 12", 18", or 24" Teflon-coated stainless steel wire tether, which comes with a small ring terminal for attachment to the back of the monitor or another nearby surface.
The Delrin, aluminum, Teflon, and stainless steel materials used should not have issues in wet environment, although we have not done any environmental testing on these products. The optional ring terminal is made of tinned brass which could be easily switched out with a stainless steel ring if required.
PDA Panache manufactures these styluses on their own CNC equipment in Bohemia, New York from USA-sourced materials.