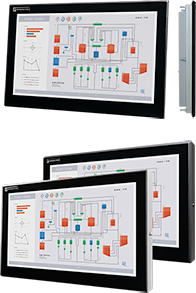 Hope Industrial Systems is pleased to announce our new 23.8″ line of industrial monitors and touch screens, the first of our next generation widescreen product line!
As our customers know, HIS takes pride in our 22-year history of assuring our customers of long-term product continuity. After shipping thousands of our 23.0″ product family for over 8 years, the worldwide panel fabricators discontinued the 23.0″ size, so about 18 months ago we acquired a large quantity of them and began a development effort to introduce a new product line that would be as close in form, fit and function as practical and at the same time incorporate an LCD panel that is expected to be available for an extended time.
By redesigning around the 23.8″ panel we have been able to make the transition as seamless as possible to provide the continuity our customers want and introduce some exciting new features in the process.
First, what has NOT changed from our 23.0″ product?
Same HD resolution (1920 x 1080) and aspect ratio (16:9)
Same cutout size for the Panel Mount unit makes it a drop-in replacement of our former 23.0″ models
Same single piece mounting collar, providing superior sealing
Same 5-wire resistive touch screen technology and same drivers
The Universal Mount models are available in stainless steel or carbon steel enclosures
The Universal Mount fits into the same yoke and benchtop mounting kits
Same NEMA 4/4X and IP65/66 ratings (tested and verified by Underwriters Laboratories)
Same Hazardous Location ratings – Class I, II, III, Division 2
Same industry-leading 5-year warranty
Same 30-day money back guarantee
Same fast turnaround of repairs – 24 to 48 hours
Still assembled in our factory in Roswell, GA
23.0″ customers, please note the following considerations
A handful of customers may be affected by a few differences from our 23.0″ products:
If you want to plug a VGA cable into the new 23.8″ monitors, you will use an adapter, which we supply with every unit. The new 23.8″ monitors include modern digital input connectors (DVI-I and DisplayPort), allowing use of all modern video connections and formats. And because support for older systems is just as important, the DVI-I connector provides native VGA signals via the included locking VGA-to-DVI adapter.
The Universal Mount enclosure is slightly wider (.31″) and taller (.43″), and thinner front to back (.1″)

It will fit into the same 23.0″ Yoke and Benchtop/Pedestal units, and the 23.0″ YW Wall Yoke Mounts
It will NOT fit into the YA Wall Arms

DC Power input range is now 10.8 VDC to 26.4 VDC (our former 23.0″ was 9.6 VDC to 36 VDC)
NOW, check out WHAT'S NEW with the 23.8″ products compared to our former 23.0″
7% larger picture area
40% increase in brightness
New multi-touch projected capacitive (PCAP) touch screen option for pinch and zoom, etc.
AC and DC power connectors are both included in the standard unit. Now, if you have both types of power in your factory you only need to stock one model.
The new 23.8″ Panel Mount products are rated IP69/IP69K for close-range high pressure, high temperature spray wash-downs (also tested by UL) and hygienic cleaning.
Edge-to-edge flush front

The touch screen or strengthened glass window extends across the entire front of the display and is protected by a strong, 0.19″ strip of 60D durometer urethane edge molding.

The edge molding eliminates collection of solids by its seamless integration with the front edge of the window.
A 20° slope of the edge molding prevents liquids from collecting on top.
There is no raised stainless or carbon steel bezel on the front, therefore there are no cracks or crevices on the front of the monitor for water or solids to collect.

DisplayPort video input connector
Food protection for our glass window
Panel Mount Models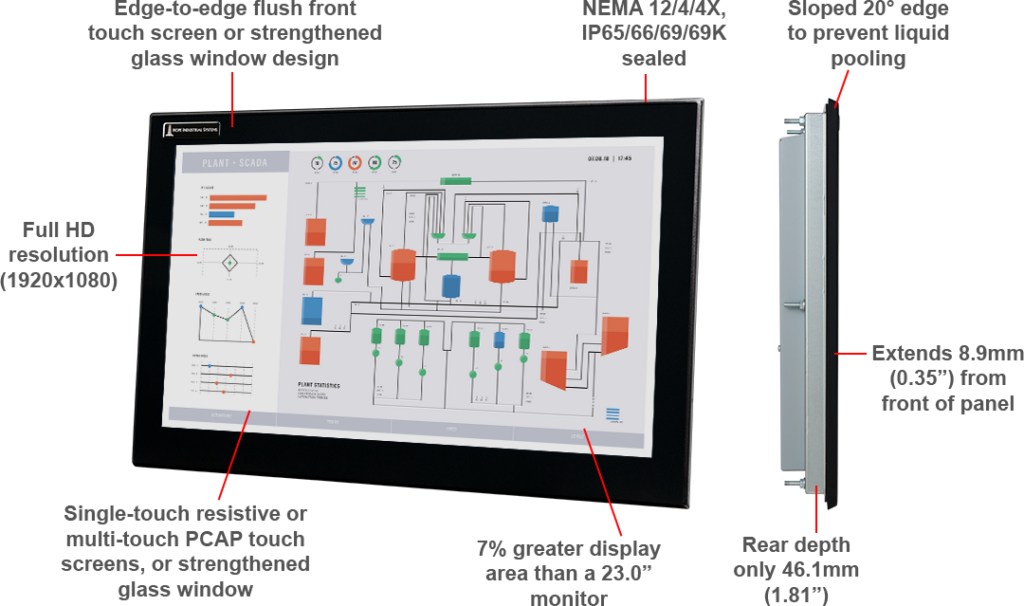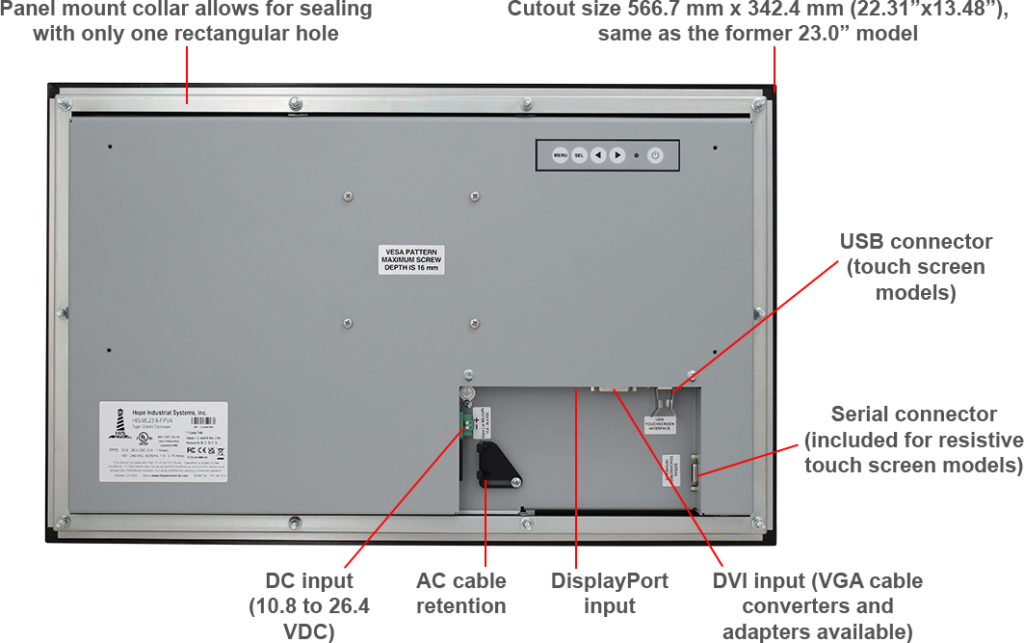 Universal Mount Models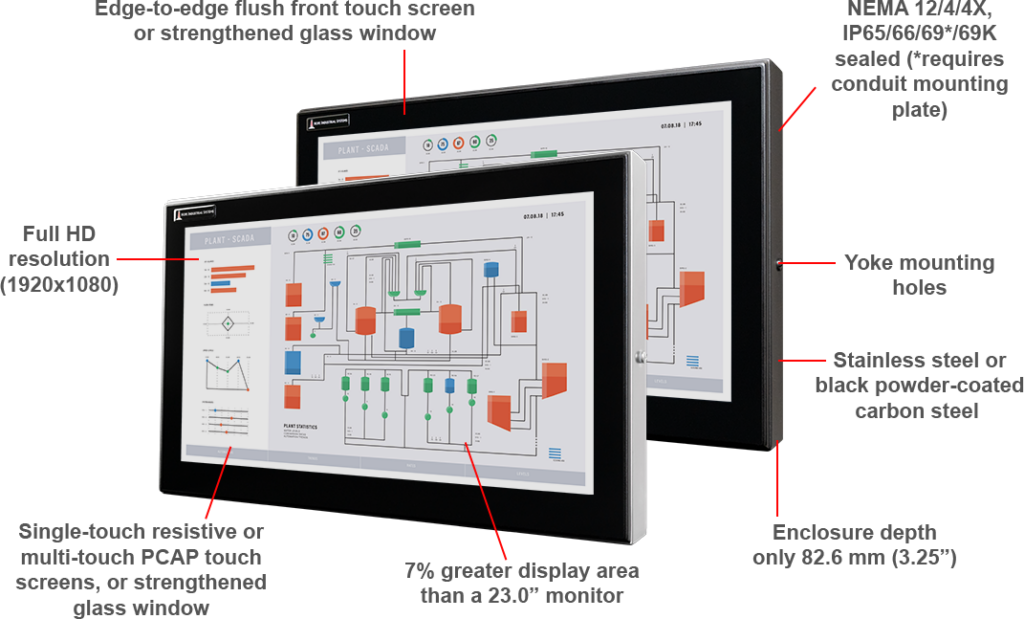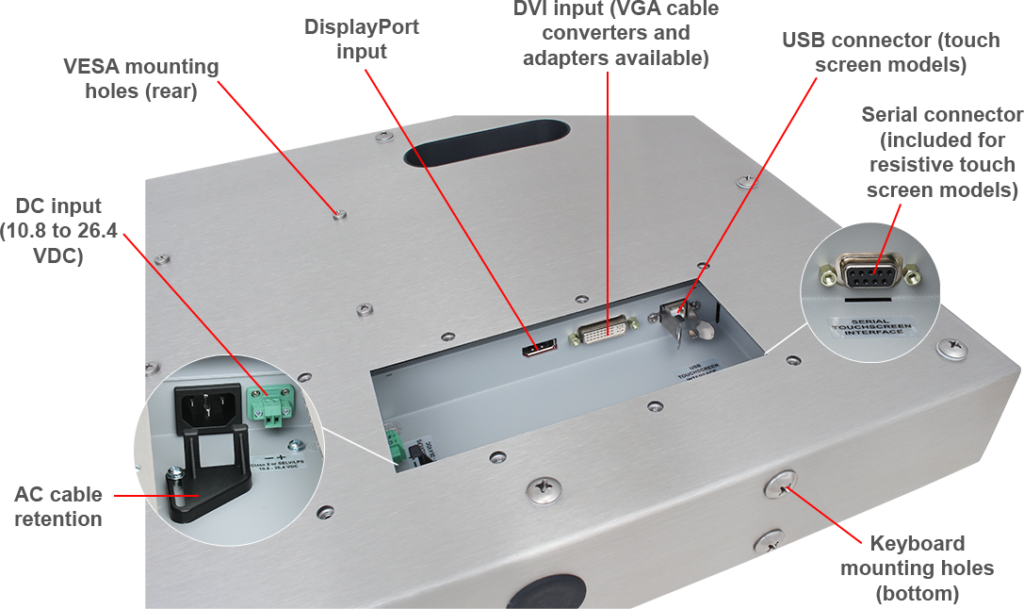 Contact our Sales team to get one ordered today!