At Hope Industrial Systems we take pride in the fact that our Panel Mount Monitors are the easiest to install in the industry. 
We have achieved this in part through our simple, yet unique design that allows our monitors to be installed with only a single hole cut into the panel: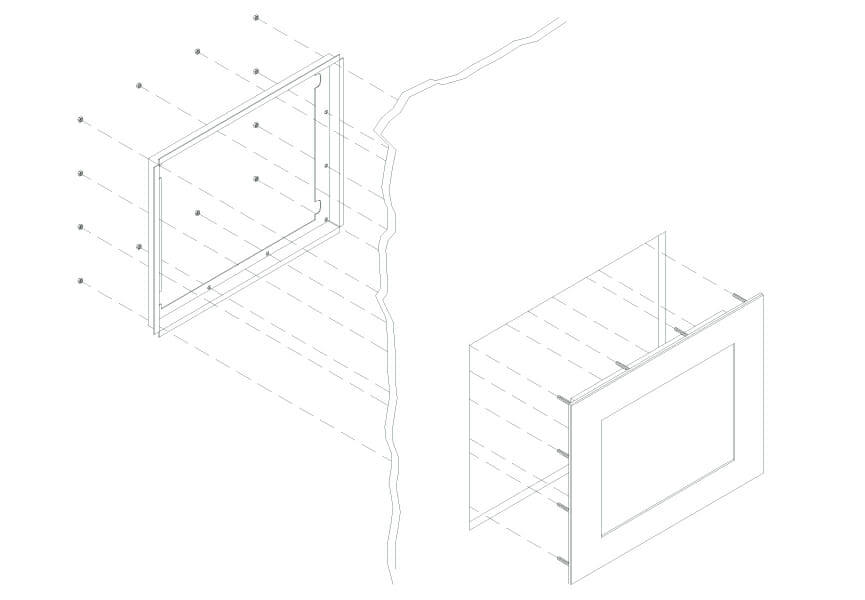 Our configuration offers several benefits:
Some Panel Mount products on the market require individual stud holes to be cut.  This can be a headache since a template is necessary, and misplacement of the stud holes can cause problems or redrilling.
Our heavy duty rear mounting collar tightly clamps the monitor to the surface of the panel and applies uniform pressure around the entire gasket. Traditional stud-hole designs produce inconsistent gasket pressure that is tight around the stud holes but loose in between them. This results in an unreliable seal that, if penetrated, can cause damage to the display and any other equipment behind the panel.
Our configuration allows the actual panel wall to be as thin as you need it to be; our rigid bezel and collar will "flatten" a thin, curvy panel to some degree
We are proud to say that this mounting mechanism has stood the test of time! Among the tens of thousands of Panel Mount Monitors we've shipped over the last seven years, none has had its seal compromised when properly installed. Our design has proved itself in the field and in our tests, but we have even gone a step further by undergoing UL50 testing through Underwriters Laboratories, earning our Panel Mount Monitors and Touch Screens a full Type 4 designation.
Contact us today if you would like to experience the benefits of a Hope Industrial Systems Panel Mount Monitor and try one out risk free for thirty days. And as always, please feel free to contact us with any questions or comments about our products or service.