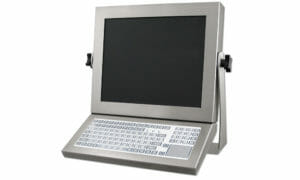 Hope Industrial Systems is pleased to announce we are shipping our new short-travel membrane keyboard with touchpad. With 102 alphanumeric keys, 12 function keys, a numeric keypad, and touchpad pointing device, it offers all the functionality required for industrial applications. Cables are routed up through the base of the monitor, exiting the enclosure along with the video and touch screen cables. The keyboard is available in PS2 or USB versions and it has been designed to attach to all Hope Industrial Systems Universal Mount monitors with no gap in between the monitor and keyboard. The keyboard is sealed to NEMA 4/4X standards and carries an industry leading 4-year parts and labor warranty.
The stainless steel version of this keyboard is ideal for food and pharmaceutical applications. The flat polyester surface makes it easy to clean and has no nooks or crannies where undesirable materials tend to collect.
New User-Friendly Key Switches eliminate the frustrating mistakes normally associated with membrane keyboards!
If you have used membrane keyboards, you have no doubt been frustrated from making so many mistakes. That's because it wasn't until you saw the end result of what you had done that you could ever really know if you pressed a key in the right place or pushed on it hard enough or long enough.
Our key switches increase your accuracy dramatically because they allow you to type not just by sight, but also by touch.
Each key is embossed on all four sides so that you can feel the precise outline of the area you should depress.
The middle of each key is elevated (domed) ever so slightly so that you can feel the exact middle of the switch location under the membrane.
Finally, when you depress the key, you can feel the switch activate, indicating you positively closed the switch.
Features
102-key keyboard
Short-travel keys
12 function keys (24 functions via Fn switch)
16-key numeric keypad
Integrated touchpad with left/right mouse buttons
Keyboard cables are routed up through the base of the monitor and exit the back along with the rest of the cables
Polyester membrane cover sheet is resistant to chemicals, scratching, and abrasion
Flat keyboard surface is easy to clean
Rated for NEMA 4/4X environments
Operating temperature – -40° to 80°C (-40° to 176°F)
Mounts flush against monitor enclosure with no gaps in between
Rigid attachment minimizes wobbling or vibration
Easier to install
4-year warranty
For more details, please visit the new keyboard's web page.