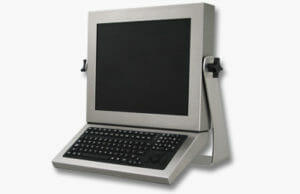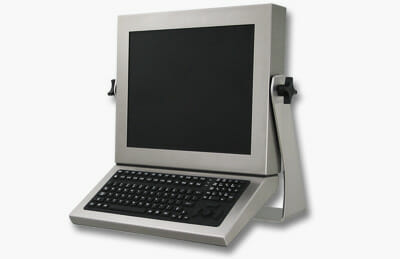 Hope Industrial Systems is pleased to announce our new full-travel rubber overlay keyboard with button pointer. With 103 keys, 20 function keys, a separate numeric keypad, and button pointer with mouse buttons, it offers all of the functionality required for industrial applications. Cables are routed up through the base of the display, exiting the enclosure along with the video and touch screen cables. It has been designed to attach to all Hope Industrial Systems Universal Mount monitors with no gap in between the monitor and keyboard and is UL certified to meet NEMA 4 and 4X standards. The keyboard is available in PS2 or USB versions and carries a 4-year parts and labor warranty.
Same functionality
103-key keyboard
20 function keys
Separate numeric keypad
Integrated button pointer with left/right/center mouse buttons
Keyboard cables are routed up through the base of the display and exit the back along with the rest of the cables
Rugged
Rated for NEMA 4/4X environments
Operating temperature – -20° to 60°C (-4° to 140°F)
What's New?
New silicone rubber overlay is even more resistant to tearing and more durable over time
New enclosure mounts flush against monitor enclosure with no gaps in between
Easier to clean
More rigid attachment; less vibration
Easier to install
4-year warranty
For more details, please visit the new keyboard's web page.