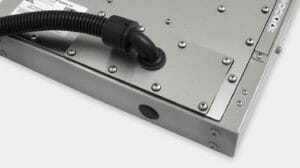 Sometimes it can get confusing making sure you have all the right parts for a fully-enclosed Universal Mount Monitor configuration, so we're going to break down the main components to help make your decision a little easier. A complete Universal Mount Monitor configuration consists of the base monitor, a cable exit cover plate, and a mounting option, as well as any additional options including keyboards, PC enclosures, and KVM extenders. Our rear cover plate options give users access to internal connections without compromising NEMA ratings. We offer a variety of cover plates to meet the needs of each customer, and we've described them in detail below (our mounting options will be described in Part II).
Conduit Cable Exit
Our most popular cover plate option, this option uses ¾" flex conduit and fittings and is available in NEMA 4 or NEMA 4X versions. We offer full conduit cable assemblies that contain all necessary cables, conduit, and fittings pre-assembled and ready to install. Conduit is available in varying lengths depending on the user's needs. Standard options contain either video, power, and USB cables, or power and CAT5e cable (for use with KVM extenders).
Compression Gland Cable Exit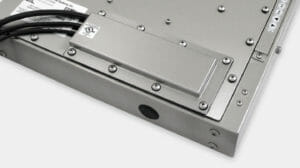 This cover plate option uses a flexible rubber (EPDM 30A durometer, to be exact) gland that is held in place with a stainless steel compression bracket. Cables are installed by the user before tightening the compression bracket, which seals the cables inside the gland cavity.  These cover plates are waterproof and suitable for washdown applications. The CP-RG1-xx models are NEMA 4 (black powder-coated carbon steel) or NEMA 4X (stainless steel). For customers who don't require as much protection, we have a NEMA 2 version of the compression gland (CP-GL-xx models) that simply compresses the cables in a sandwich of Poron foam.
Pilot Hole Cover Plate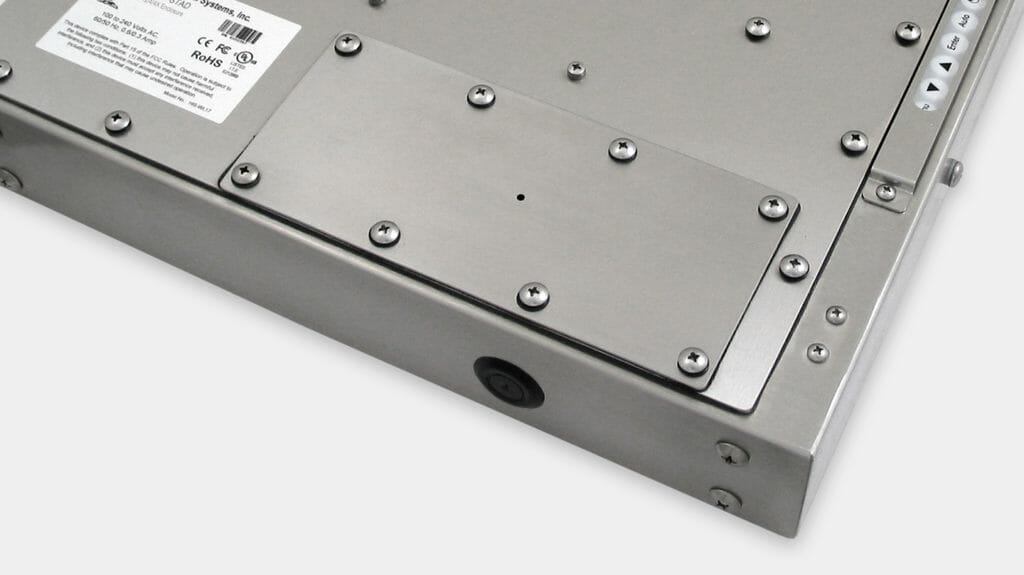 This sealed plate may be drilled by the user for custom cable exiting. This option maintains a NEMA 4 or NEMA 4X rating, as long as a comparably-rated method is used by the customer to seal the cables exiting the plate. This is a good option when an existing conduit type is already being used at the customer's location.
Stay tuned for Part II of this article, where we'll discuss the details of the different mounting options we offer for our fully-enclosed Universal Mount Monitors.