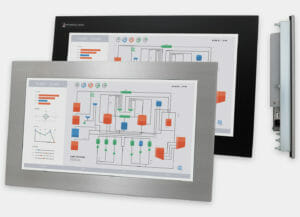 Hope Industrial Systems has been shipping HazLoc-rated monitors for 10 years now. But did you know that every one of our industrial monitors and touch screens, as well as monitor-mounted keyboards, is rated for hazardous locations?
According to the National Electrical Code (NEC), hazardous locations are areas "where fire or explosion hazards may exist due to flammable gases or vapors, flammable liquids, combustible dust, or ignitable fibers or flyings."
Hope Industrial Systems enlists 3rd-party testing through Underwriters Laboratories Inc. (UL) to ensure our products are safe to use in hazardous locations. UL bases a product's HazLoc certifications on its ability to protect users from hazards specific to their environment.
HIS industrial monitors and monitor-mounted keyboards are certified by UL for Class I, II, III, Division 2 hazardous locations and Type 4X/4/12 environments. All of our products are supported by our industry-leading 4-year warranty and 30-day total satisfaction guarantee.
Hazardous Location Ratings
Gases – Class I, Division 2 for All Groups (A, B, C, D)
Dusts – Class II, Division 2 for Groups F, G
Fibers or Flyings – Class III, Division 2
So what's the big deal?
Price – our HazLoc pricing is unmatched in the industry!
3rd-party testing and certifications performed by Underwriters Laboratories (UL)
Warranty – 4 years
Shipment lead time – most models can be shipped in less than 3 days
30-Day Total Satisfaction Guarantee
Visit our Hazardous Location explainer page for more information and a technical summary of hazardous locations.